The Croatian city of Dubrovnik has always been well-renowned for its great historical sights. As a result, sightseeing around the city has become the dominant activity for tourists. A perfect relaxing option after all that touring are Dubrovnik beaches.
The majority of these visitors turn to the Adriatic seaside once they're done touring in order to relax a bit and enjoy the beautiful scenery. And unsurprisingly enough, the city's shoreline is full of beaches, all within walking distance from the Old Town, and each unique in its own way. Take your time to find out where are best beaches in Dubrovnik through this article.
So, if you plan to visit anytime soon, then you're in luck because we've gone out of our way to create a complete guide of beaches in Dubrovnik for you. It includes an overview of some important aspects of beaches and a list of the 12 best ones that you can visit.
We wanted to keep it as close to each other as possible, so Beaches on Mljet Island (like Saplunara Beach) won't be included in this list…
Do enjoy your read, and we hope to see you sooner than later, with that's going on around the world nowadays.
Want to explore best beaches in Dubrovnik? Make sure to check our tours!
Are There Any Sandy Beaches in Dubrovnik?
If you're someone who loves going to beaches that mainly consist of long stretches of sand, then beaches in Dubrovnik will most likely disappoint you. Most of Croatia's coastline is rocky with predominantly shingle beaches. However, there still are a few "sandy" beaches in the city of Dubrovnik. Sandy, in this case, means a mixture of powdery sand with a lot of smooth rocks and pebbles.
The most common types of beaches in Croatia are rock or concrete platform ones. Now, we can't deny that they're not the best for suntanning; however, this hasn't stopped us from doing it ourselves. Additionally, being able to jump into the water from the ledges anytime you feel like it never gets old. Also, for your own safety, do make sure that the water is deep enough before jumping and that the ledge you're jumping from has a secured ladder nearby.
Dubrovnik's Nude Public Beaches
Croatia's nude public beaches are labeled as "FKK" which stands for Freikörper-Kultur, German for Free Body Culture. Unfortunately, there aren't any nude beaches near Old Town. However, there is one on Lokrum Island, which is a very short ferry boat ride away from the city.
Is Dubrovnik Good for Beaches?
Finding swimming spots is the most important activity that a lot of people look forward to when going to the beach, rightfully so. If you happen to be one of those people, then Dubrovnik beaches will definitely not disappoint you for a multitude of reasons.
For one, even in the heat of summer, the water in beaches manages to stay cool, which is great news for anyone.
Additionally, there are a lot of beaches in Dubrovnik where you can either walk into the water or jump, both of which are unforgettable experiences. Still, we highly recommend that you take the necessary precautions with both activities, such as grabbing a pair of swim shoes for wading into the water, for example. Also, make sure to have some sort of travel insurance, just in case!
Is Dubrovnik a Beach Holiday?
Besides having a great historical heritage, Dubrovnik is a great spot for summer holidays. It has numerous nice beaches, the majority of which are easily accessible from the town center. The Adriatic Sea, with its turquoise waters, is nothing short of amazing.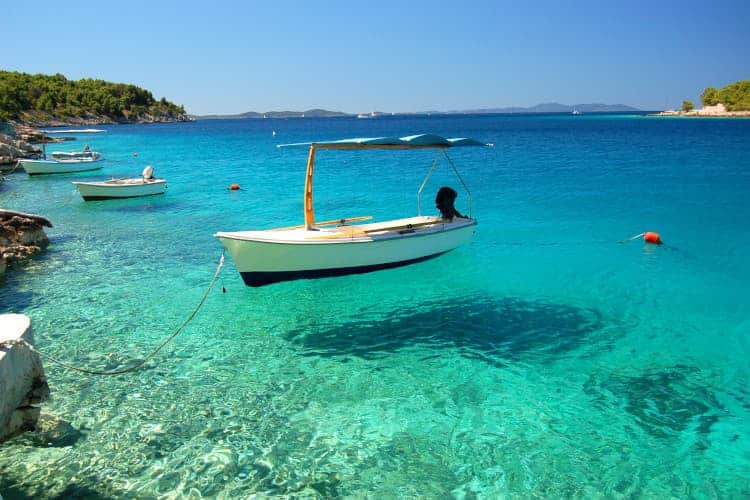 Assuming that you just made to Dubrovnik, and you want to immediately go to the beach, then you'll probably end up in the city's most popular beach, Banje Beach.
There is also a number of very attractive beach resorts, all of which are within easy reach of the town's center.
What are the Best Beaches in Dubrovnik?
In order to make your life easier and your next summer vacation more fun, we've collected a list of what we consider to be the 12 best Dubrovnik beaches that one can visit.
The list includes a few beaches that you can simply walk to from the Old Town and some others that can be accessed via car, bus, or boat.
Banje Beach
Sulic Beach
Dance Beach
Outer Walls Public Beach
Sveti Jakov Beach
Secret Beach
Copacabana Beach
St Jacobs Beach
Private Hotel Beach
Šulići Beach
Lapad Beach
Babin Kuk
1. Banje Beach
This one isn't the most popular beach in Dubrovnik for nothing. It's family-friendly, fun, and very stylish. Another key factor that contributed to its popularity is how easily accessible it is. All you need to do is to go to the Ploče Gate (the main entrance to Old Town from the Eastern side) and take the stairs.
Unfortunately, this means that this beach isn't suitable for strollers or wheelchairs since the only way to access the beach is through those stairs. Nevertheless, this beach offers numerous great sights, including the clear turquoise sea, Lokrum Island, and Old Town itself. It also has small pebbles instead of sand, which shouldn't come as a surprise to you at this point.
The stretch of the beach itself is divided into two parts:
A public beach where people can bring their own drinks and claim a certain space with beach towels.
The Banje Beach Club where you can pay a fee for a cushy lounger or a bamboo bed. You're also expected to buy food from their restaurant, which serves lunch and dinner (seafood and local cuisine). At night, the Banje Beach Club transforms into a nightclub, a great spot for any of you night-lifers.
Did you know that Dubrovnik cruise port is just in front of the Old Town, next to Lokrum island, making it visible fully from Banje beach?
2. Sulic Beach
This shingle beach is tucked in a cove near the Old Town Pile Gate, a truly hidden gem. On one side, you have the majestic Fort Lawrence (also known as King's Landing for you Game of Thrones fans out there), and on the other, you have a regular-looking city parking lot. This beach is also pebbly, but it isn't as big or as popular as Banje Beach, which can be a plus in some people's eyes since it's generally more peaceful.
If you're looking to swim, then you can either enter the water from the beach or via the paved way along the edge of the water under the cliff. Additionally, Sulic Beach has two beach bars, Dodo Beach Bar and Ala Mizerija, both of which are great spots for someone who's looking to grab something to eat or have a cold drink.
Sulic beach also has one of the best views that any beach in Dubrovnik has to offer, which can easily be accessed by walking to the top of either bluff that rises from the sea.
Definitely try cliff jumping when there.
3. Dance Beach
In order to reach dance beach, which is located west of Old Town, you'll need to take a 20 min walk from the Pile Gate. It sits at the outer edge of a crescent bay and is a mixture of both naturally occurring rock and poured concrete.
If you wish to swim, then you can either use the many ladders or just jump into the sea. There is a small café shop which offers chairs, shade, and drinks obviously. Unfortunately, you'll only find it open during the summer months.
Most of the bay, upon which the Dance beach sits, is encircled by a natural forest. Just beside it, you'll find a small church and a road which will take you along some coastline trails. Believe us when we say that the scenery is just magical, hence why we consider Dance Beach to be one of the best Dubrovnik beaches.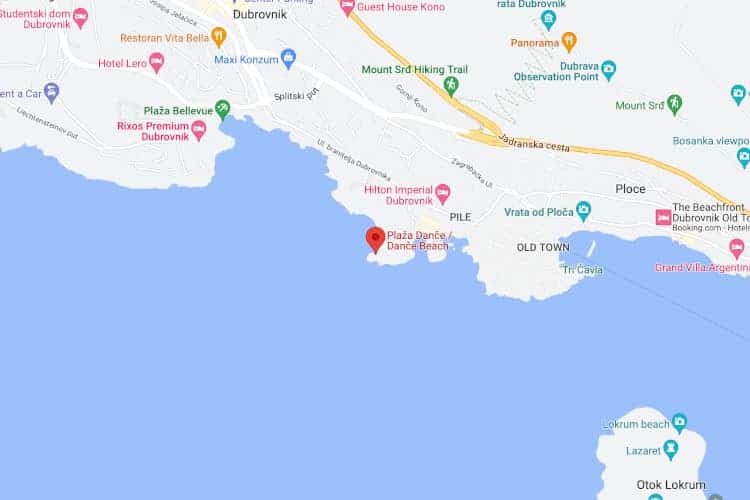 4. Outer Walls Public Beach
Located just outside the Southern city's walls, right around the corner from St. Ivana Tower and the Old Port, this beach is an unnamed hidden gem. In order to make it there, you'll new to walk to the Old Port, follow the walkway to the lighthouse. Once you're there, simply make it to the top of the breakwater wall using the stairs, and then continue walking down the path until you make it a platform.
The Adriatic water by this beach is deep yet crystal-clear, perfect for jumping in. Finding swimming spots and experience of swimming below the magnificent city walls is just a once in a lifetime one.
There is just one thing that might be problematic. The swim spot itself isn't in a cove. Instead, it's open to the sea, which means you'll be prone to numerous wakes due to the many boats that pass by the outer walls. These wakes might cause some trouble when you're using the stairs or a ladder to climb out as they might push you into the rocks, causing some minor injuries.
All in all, if you're always vigilant of your surroundings, you'll be fine, and as we mentioned earlier, the experience of swimming below the city's iconic walls is simply majestic. We highly recommend this Dubrovnik beach that we totally can't name, but hey since when did names matter?
5. Sv. Jakov Beach
A 30-minute walk, St. Jakov Beach is the furthest beach from Old Town. It's tucked in a cove at the base of a rock cliff and provides some amazing views of the Old Town in the distance. It's rocky and pebbly, so we recommend that you wear a pair of water shoes if you plan to take a swim.
Waves lap up against the shores of Sveti Jakov, a secluded beach sandwiched between the rocks facing the town of Dubrovnik.
Additionally, you'll find a restaurant there which serves some delicious food and cold drinks. You can also rent loungers and umbrellas.
If you which to take a walk around after you're done swimming, we recommend that you follow the coastline past the beach bar where you'll find an abandoned hotel which offers some eerie but magnificent scenery.
If the 30-minute walk doesn't really bother you, then we highly recommend that you go through the extra effort to make it to this beach. It's simply on the one of those beaches that any first-time visitor of the city should check out.
6. Secret Beach
This secret unnamed public beach can be accessed by a staircase with green handrails, just off Ulica Vlaha Bukovca street. It's yet another great Dubrovnik beach that is tucked away but still provides you with some incredible views of the Old Town.
There are no on-site services of any kind, so if you wish to grab a bite or have a drink, then you'll have to bring your own, which some people prefer. Moreover, whenever you feel like it's getting too hot, you can always run to the shade of the trees that surround this beach.
Did you know that on Mljet island there's a beach with white sands… next to the National Park? Check our Mljet private boat tour, and book now!
7. Copacabana Beach
Located in Seka Bay, Copacabana is one of the top Dubrovnik beaches for numerous reasons. For one, it's packed with luxurious white loungers and deckchairs, and an overall active scene with a lot of stuff going on.
Moreover, there is a beachside restaurant that offers breakfast, lunch, and dinner. They also have an arsenal of cocktails, fresh juices, and smoothies. You can also get a taste of some of the best Croatian wine from the beach bar. The beach itself comes in the middle of a big stretch of coastline, which is great for walks with your significant other or the kids.
We highly recommend that you go for a sunset boat trip. Getting a glimpse of the city baked in the golden colors of sundown is simply of the best things that you can do in all of Dubrovnik.
8. St Jacobs Beach
A favorite among locals, Sveti Jakov (St Jacobs beach), is located just down the coast past the Villa Dubrovnik, a 20-minute walk from the city. You can also take the bus (No. 5 or No. 8) to make it there.
Your access to the beach itself is via a long stairway, which you'll be unwilling to climb back up, not because of how long it is but because of how great this place is.
Surprisingly enough, despite what we've already mentioned about this beach being popular amongst the locals, it still is rarely crowded. It's a mixture of pebble and shingle with both a restaurant and a bar within reach of you.
At sundown, you'll get a great view of the Old Town, similar to that of Copacabana beach, a reason among many for why Sveti Jakov made it to our list of the best Dubrovnik beaches.
9. Private Hotel Beaches
Right between Banje Beach and Sveti Jakov, you'll find a number of hotel beaches that we highly recommend. These hotel beaches are either hired by the day or exclusive, and they offer a pool and a terrace with a great view, among other things.
If beach hotels aren't your thing, however, then we urge you to pay a visit to Betina Špilja instead. It's a unique white pebble beach located within a cave that's only reachable via the sea. You can rent a taxi boat at the old harbor, pick up some food and drinks with you and head there.
10. Sulici Beach
One of the cleanest Dubrovnik beaches, Šulići beach, is just a short walk from Pile Gate. The beach is usually filled with locals; however, you rarely find it in a crowded state, even during the busiest summer months.
On the other side of the promontory by Šulići beach, you'll find Danče beach, a great rocky beach from which you can jump to the crystal-clear Adriatic scene.
On a side note, we recommend that you stay aware at all times if you plan to swim in both beaches since the waves can be rather tough at times.
11. Lapad Beach
You can easily reach Lapad peninsula by taking the No.6 bus from Pile. It's has a public beach, Uvala Lapad beach, that comes with sun loungers, showers, and clear, shallow waters overseen by numerous lifeguards.
FYI… Lapad is a neighbourhood, while Lopud is one of Elaphiti Islands.
Behind it, you'll find a bouncy play area and a number of tennis courts nearby. Head west, and you'll find yourself in what is called the Niki i Meda Pucića. Besides it, you'll find some rocks upon which you can sunbathe fully naked.
In short, Lapad beach is quite diverse, allowing you to do a number of different activities, some of which are very family-friendly, some not so much. This is the main reason why it's considered to be one of the best Dubrovnik beaches and is highly recommended by us.
12. Babin Kuk
Last but not least, we have Babin Kuk, a peninsula in the northernmost west of Dubrovnik. Which is also reachable by bus no.6. It's packed with hotels, all of which have a private beach of their own. 
We've already mentioned one earlier, the Copacabana. There are many other great ones in the area.
FYI… in case you wondered what "Babin Kuk" means, it's literally "Grandmother's Hip".
You can also get a boat ride, canoes, jet skis, banana rides, water chutes, and many more high-adrenaline, fun activities.
In addition, you can take a path with an "FKK" signpost, which will take you down to, you guessed it, a naturist beach called Cava.
Want to explore Dubrovnik's exotic beaches? Make sure to check one of our tours
It's easy to find any beach in Dubrovnik, although it is a small city. From pebbles and concrete to sandy beaches, surrounded by rocks or completely isolated in the green fauna, quiet and hidden from the public – Dubrovnik has every type of beach for you.
Most of the beaches in Dubrovnik are pebble ones, and it is hard to find sandy ones. Šunj is a sandy beach, and it is on the Island of Lopud – Elaphiti Islands. This family-friendly, shallow-water beach is perfect for a family vacation. There are a lot of amenities on the beach, as well.
The most popular beach in Dubrovnik is Banje beach, and it's one of rare beach that's close to Old Town.